Click here for Price & Details
for the Jordan/Petra Extension
Jordan Prequel - May 16 - 21, 2022
Why go to Jordan?
Many Biblical events took place on the East side of the Jordan River in what is now the Hashemite Kingdom of Jordan. The tribal homelands for three of Israel's 12 Tribes were East of the Jordan. (Remember, modern political boundaries in the Middle East are really just lines drawn on a map after World War I.) Jesus spent considerable time on the other side of the Jordan and there is much to see. Jordan is a fascinating place to visit – safe in every way and very hospitable to pilgrims. I have taken groups to Jordan several times now and also spent time there while I was on sabbatical in 2017. Jordan is also the land of the ancient
Edomites, Moabites, Ammonites,
and later the Nabateans. It was the allotted land for the Jewish tribes of Ruben, Gad and the half-tribe of
Manasseh
. In the Byzantine Period the landscape of Jordan was dotted with Churches as the people of this land were nearly all Christians. If you can find the extra time and money – you will be glad you went with us to on this Jordan Extension.
Big Picture & Timeline:
The
Jordan Prequel
precedes
our
2022 Living Stones Pilgrimage
to Israel & Palestine. Instead of flying to Tel Aviv on May 30, 2022, we will fly to Amman, Jordan on Monday May 16. We arrive at Queen Alia International (AMM) the next day. We then tour Jordan for 4 full days. On May 21 we will travel by motor-coach to Israel, crossing the international border into Israel at the famous Allenby Bridge. We will drive up the Jordan River Valley to the fascinating ancient site of Beit She'an, where will also explore the extensive Roman ruins on-site. Supper time will find us at our hotel in Galilee where we will join up with the rest of our entourage for the tour of Israel and Palestine.
While most people think of the Holy Land as Israel and Palestine,
properly speaking the Holy Land includes portions of the modern nations of Israel, Palestine, Lebanon, Syria, Jordan, and Egypt. Ancient borders & territories did not follow today's political boundaries that have moved many times.
Itinerary: Jordan Extension 5 Days/4 Nights May 16-21, 2022

​Monday, May 16, 2022 TRAVEL DAY
We will travel together from Toronto, most likely an early evening flight.

[1]

Please plan to arrive at the airport at least 3 ½ hours before departure. Travel with as little luggage as you find comfortable. This is an overnight flight arriving mid-afternoon Saturday. While aboard: drink water, stretch your legs once in a while, and do your best to sleep. Our pilgrimage program is demanding so it is a good thing to try to arrive rested.

[1]

We will decide which flight early in 2022 based largely on price. Royal Jordanian, Air Canada, Lufthansa, Egypt Air all fly this route. My first preference for schedule and amenities is Lufthansa. There are no non-stop connections from Toronto to Amman -- so we will end up changing planes en-route, usually at Vienna, Heathrow, Frankfurt, or Cairo.
Tuesday, May 17, 2022 Arrive in Jordan and to AMMAN
​
We will land Queen Alia International Airport, Amman
mid-afternoon – likely at 3:00 PM. After collecting our luggage and clearing customs we will be met by our guide who will take us to our motor-coach. The drive in to Amman takes a little less than 45 minutes. (Our motor-coach will be Air Conditioned and Wi-Fi equipped. (
Wi-Fi is notoriously unreliable on tourbuses.) Roaming in Jordan can be expensive – so I suggest you turn roaming off and go 'unplugged' for a few days.
A brief drive about Amman will help to orient us to this ancient city though we will make no stops. Afternoon check-in to our hotel for dinner and overnight at the
Century Park Hotel, Amman
. We will be tired for our long journey and dinner and overnight will be welcome.
---
Wednesday, May 18, 2022 AMMAN, JERASH, AND TO PETRA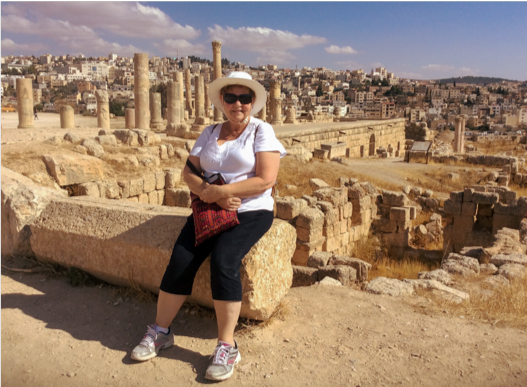 Our day begins with breakfast at our hotel with excellent middle-eastern food and western food to choose from. We then check-out of our Hotel and gather on the bus. We spend a couple hours exploring some highlights of ancient
Amman
,our tour will include
the Citadel
and the
Roman Theatre[1]
. Amman was called Rabbath Ammon or Rabat Amon by the Ammonites. It was later conquered by the Assyrians, followed by the Persians, the Greek Macedonians,
[2]
and the Romans..
We then drive to the ancient city of
Jerash
, site of the ruins of the Greco-Roman city of
Gerasa
, also referred to as
Antioch on the Golden River
. After the Roman conquest of AD63, Jerash was included in the Roman province of Syria, and later became part of the
Decapolis league
of cities. After AD106 Jerash was part of the Roman province of Arabia of which Philadelphia (Amman) was the capital. Remains in the Greco-Roman Jerash include (numerous Corinthian columns,
Hadrian's Arch
,
[3]
The
circus-hippodrome,
The two large temples (dedicated to
Zeus and Artemis
), a nearly unique
oval Forum
, a
long colonnaded street or cardo
, Two theatres (the
Large South Theatre
and
smaller North Theatre
), / Two baths, and a scattering of small temples and an almost complete circuit of city walls.
Jerash flourished in the Byzantine period – evidenced by the many churches found within the walls. From AD 350, a large Christian community lived in Jerash, and between AD 400–600, more than thirteen churches were built, many with superb mosaic floors. A cathedral was built in the 4th century. An ancient synagogue with detailed mosaics, including the story of
Noah
, was found beneath a church. Jerash declined rapidly after the Persian invasion of AD614.
Outside of Italy, Jerash is considered one of the largest and best preserved sites of roman architecture in the world. We will enjoy Lunch at
the Jerash Lebanese Restaurant
offering Arabic traditional Cuisine.
After lunch we drive south to the village of
Wadi Musa
adjascent to the site of
Petra
. There we check in at the
Petra Guest House
, for dinner and overnight. (We will stay for two nights at this elegant hotel, perfectly located for exploring Petra.
---
---

​THUR., May 19 THE ROSE-RED CITY HALF AS OLD AS TIME
| | |
| --- | --- |
| After breakfast at the hotel we will spend our day visiting Petra: a historical and archaeological city famous for its rock-cut architecture and water distribution system. Sometimes called the Rose City due to the color of the stone out of which it is carved, Petra (Ramqu) was the capital city of the Nabateans. It is the primary tourist destination in Jordan. Lost from western eyes from about 1400, Petra was visited in 1812 by Swiss adventurer Johann Ludwig Burckhardt. It was described as "a rose-red city half as old as time" in a Newdigate Prize-winning poem by The Very Rev. John William Burgon. UNESCO has described Petra as "one of the most precious cultural properties of man's cultural heritage." The impressive eastern entrance leads downhill through a dark, narrow gorge called the Siq ("the shaft"), a natural geological feature formed from a deep split in the sandstone rocks and serving as a waterway flowing into Wadi Musa. At the end of the narrow gorge stands Petra's most elaborate ruin, Al Khazneh (popularly known as "the Treasury"). We will spend the day exploring this incredible historic heritage site. We have lunch on-site in Petra and continue to explore in the afternoon. We return to our Petra hotel for dinner and overnight. | |
---
FRIDAY May 20, 2022 KERAK, MADABA, MT. NEBO, AMMAN
Breakfast in the hotel. Check-out and transfer to visit

Kerak

: known for its famous crusaders castle. The ruins of the castle one of the three largest castles in the Levant Area, was built in the 1140's

[1]

. The magnificently-situated castle is an evocative ruin, with an amazing view. The site poorly developed and without much interpretation, but still worthwhile to visit.

We continue to drive north to

Madaba[2]

: Best known for its spectacular Byzantine and Umayyad mosaics. Here we will visit the Archaeological park which encompasses several Byzantine Churches. Nearby is the

Greek Orthodox Church of St. George,[3]

famous for it's 6th century

mosaic map

of the Holy Land

[4]

. The map shows hills and valleys, villages and towns in Palestine and the Nile Delta. As time permits we will visit other sites in Madaba.

Lunch

at local restaurant in Madaba offering Arabic traditional Cuisine.

We then drive to

Mount Nebo

: at 700 m it has a captivating views of the Jordan Valley. At the summit is the mountaintop memorial of Moses

[5]

with astonishing views of the Dead Sea and The River Jordan and the land of Israel. There is a Franciscan Church her, built atop ancient ruins. Here we will celebrate

Holy Communion

in one of the chapels. The Bible tells of the Israelites, near the end of their desert wandering, looking down into the promised land from Mt. Nebo. From here, Moses was granted a view of the Promised Land that he would never enter. Proceed to

Century Park Hotel in Amman

for check-in and overnight.
---

​SAT., May 21, 2022 AMMAN, ISRAEL, BEIT SHE'AN, NAZARETH


After breakfast in the hotel, we check-out and drive to the

Allenby Bridge

for where leave Jordan and, changing buses, cross into Israel. After the crossing and for the rest of today we will not have a local Guide. However, for this part of our adventure, we will have Vicars who knows the lay of the land and an Israeli tour-bus & driver. We will drive up the Israeli side of the Jordan River Valley – stopping at

Beit She'an

. Because of it's location (where the Jordan Valley and the Jezreel Valley's intersect) this place has been important throughout history. Best Shean sits astride the ancient route called the

Via Maris

or "way of the sea." It figures in the Biblical story as well, here a significant battle between the Philistines and Israel took place

[1]

. In Roman times this was the leading city of the

Decapolis

league of 10 cities in the Levant.

We will have lunch at a local restaurant in Beit She'an and tour the site before continuing our journey north. At

Nazareth

(the town of Jesus childhood) we will check into the

Golden Crown Hotel

for dinner and overnight. The rest of our entourage will arrive here today as well. Tomorrow morning our "Living Stones Pilgrimage" of the holy sites in Israel and Pelestine will begin.

[1]

After they were killed in fighting with the Philistines on Mt. Gilboa, the bodies of King Saul and three of his sons were hung on the city walls at Beit She'an. 1Sam31:10-12)
Click here for Price & Details
for the Jordan/Petra Extension
| | |
| --- | --- |
| | Click the link to the left to download a printable version of the Jordan Extension Itinerary |
---